---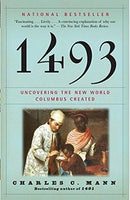 by Charles C. Mann
Vintage
2012, paperback
SKU: 9780307278241
From the author of 1491--the best-selling study of the pre-Columbian Americas--comes a deeply engaging new history that explores the most momentous biological event since the death of the dinosaurs.
More than 200 million years ago, geological forces split apart the continents. Isolated from each other, the two halves of the world developed totally different suites of plants and animals. Columbus's voyages brought them back together--and marked the beginning of an extraordinary exchange of flora and fauna between Eurasia and the Americas. As Charles Mann shows, this global ecological tumult--the "Columbian Exchange"--underlies much of subsequent human history. Presenting the latest generation of research by scientists, Mann shows how the creation of this worldwide network of exchange fostered the rise of Europe, devastated imperial China, convulsed Africa, and for two centuries made Manila and Mexico City-- where Asia, Europe, and the new frontier of the Americas dynamically interacted--the center of the world. In 1493, Charles Mann gives us an eye-opening scientific interpretation of our past, unequaled in its authority and fascination.
About the Author:
Charles C. Mann is the author of 1491, which won the U.S. National Academy of Sciences Keck award for the best book of the year. A correspondent for "The Atlantic Monthly", "Science", and "Wired", he has covered the intersection of science, technology, and commerce for many newspapers and magazines here and abroad, including the "New York Times", "Vanity Fair", the "Washington Post, " and more. In addition to 1491, he was the co-author of four other non-fiction books. He also has a young adult version of both 1491 and 1493, called Before Columbus and 1493 for Young People, respectively.