---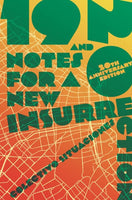 by Colectivo Situaciones
Common Notions
11/23/2021, paperback
SKU: 9781942173489
In an uprising heard around the world, people in Argentina took to the streets on December 19th & 20th, 2001, shouting "¡Qué se vayan todos!" These words (All of them out!), and the thousands of people banging pots and pans, opened a period of intense social unrest and political creativity that led to the collapse of government after government. Neighborhoods organized themselves into hundreds of popular assemblies across the country, the unemployed workers movement acquired a new visibility, workers took over factories and businesses. Deeply involved in these movements were the activists who made up Colectivo Situaciones.
With the embers of that December's aftermath still burning, Colectivo Situaciones militantly researched and wrote 19 and 20. Locating themselves among the "horizontally organized subjectivities that insisted on not being represented by politicians but maintaining and developing their own powers of political expression" that Micheal Hardt notes in his introduction, Colectivo Situaciones gathers, interrogates, and offers forth the words of unemployed workers, factory occupiers, insurgent intellectuals, and children of the disappeared. From their investigations is revealed the birth of a new social protagonism and the de-institutional power (potencia) they wield.
19 and 20 has been praised as this generation's 18th Brumaire and as Marx's analysis of that struggle helped set the stage for, twenty years later, the Paris Commune we find ourselves here. Revisiting and exploring the forms of counterpower that emerged from the shadow of neoliberal rule we find the book's potencia has only grown. In the intervening years the analysis of Colectivo Situaciones has been passed from hand to hand and multitudes of citizens from different countries have learned their own ways to chant ¡Qué se vayan todos!, from Iceland to Tunisia, from Spain to Greece, from Tahrir Square to Black Lives Matter. Colectivo Situaciones' practice of militant research--of engaging with movements' own thought processes--resonates with everyone seeking to think current events and movements, and through that to gather the foundation of a commune for the 21st century.
About the Contributors:
Colectivo Situaciones is a collective of militant researchers based in Buenos Aires. They have participated in numerous grassroots co-research activities with unemployed workers, peasant movements, neighborhood assemblies, and alternative education experiments.
Michael Hardt (b. 1960) is a political philosopher and literary theorist, best known for three books he co-authored with Antonio Negri: Empire (2000), Multitude: War and Democracy in the Age of Empire (2004), and Commonwealth (2009). Michael Hardt is a professor of literature at Duke University and a professor of philosophy at The European Graduate School / EGS.

Antonio Negri (b.1933 in Padua, Italy) is an Italian political philosopher and sociologist.