---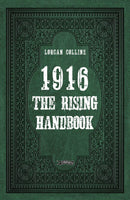 by Lorcan Collins
O'Brien Press
4/22/2016, hardcover
SKU: 9781847175991
A handbook to the events and locations of the Easter 1916 Rising.

There are so many different versions of the story of Easter Week 1916. Lorcan Collins, an acknowledged expert on the subject and founder of the 1916 Rebellion Walking Tour, decided that it was time to put together a truthful and factually correct reference book in one handy volume. This '1916 bible' will be invaluable to anyone with an interest in recent Irish history who wants to separate the facts from the fiction.

1916: The Rising Handbook offers bite-sized details about the organizations involved in the Rising, the positions occupied during Easter week, the weapons the rebels and army used, the documents that were passed around, and the speeches that were given. It details the women who came out to fight and profiles the sixteen executed leaders, as well as looking at the rebellion outside of Dublin.

It also utilizes three different resources to give the most comprehensive list yet of all of those involved in the Rising. If a relative of yours fought during Easter 1916, you'll find their name in here.
Reviews:
"Collins' book is nothing less than a total immersion in the era, introducing us to its principle players and their often conflicting politics. . . One of the most comprehensive introductions to the revolution you could ever ask for." -- Irish Voice

About the Author:
Lorcan Collins co-author, with Conor Kostick, of The Easter Rising: A Guide to Dublin in 1916; founder of the 1916 Walking Tour of Dublin; lectures on Easter 1916 in the United States, and a regular contributor to radio, television and historical journals. 16 Lives is Lorcan's concept and he is the author of the first book in the series, a biography of James Connolly.