---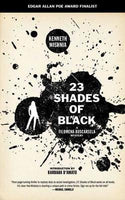 by Ken Wishnia
PM Press
6/1/2012, paperback
SKU: 9781604865875
This tense, psychological thriller set in the East Village punk scene during the early 1980s shadows a single evening shift of NYPD cop Filomena Buscarsela. When Filomena learns that the toxic leak may have been sabotage, and a key witness--an East Village artist--dies in a suspicious accident, she decides to pursue the case on her own by cruising the Alphabet City punk rock clubs for clues about the artist's last days. But as she attempts to punish environmental criminals, Filomena finds the case, and her personal life, begin to crumble. A taut noir tempered with a cynical sense of humor, this mystery novel is a sociological snapshot of a working-class Latina in New York City.
With an introduction by Barbara D'Amato.
About the Author:
Ken Wishnia is an associate professor of English at Suffolk Community College. He is the author of Blood Lake, The Fifth Servant, The Glass Factory, Red House, and Soft Money. He lives in New York City.