---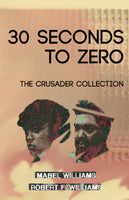 by Mabel and Robert F. Williams

The Rookery Press
2023, paperback
SKU: n/a
30 Seconds To Zero: The Crusader Collection is an assemblage of the work of Mabel and Robert F. Williams from their newsletter The Crusader. From its inception in Monroe, North Carolina (Terror Town, USA) The Crusader appealed for Black militancy and armed self-defense. It was the official propaganda organ of the first Black self-defense militia activated as a security force for the civil rights movement and local NAACP. Mabel Williams' pivotal contributions to revolutionary history have been largely left in the whirlwind, and she is cited infrequently compared to her husband and co-author. With this compilation, find her restoration as a dear ancestor of the Black Liberatory Tradition in her own right. The insights of Mabel and Robert F. Williams are so prescient that they cut across time.
About the Publisher:
The Rookery Press returns rare revolutionary texts from the whirlwind to the masses.