---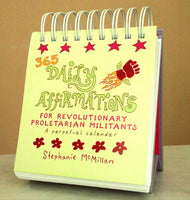 by Stephanie McMillan
Stephanie McMillan
2015, calendar
SKU: N/A
These are great!
There's plenty of inspirational literature for those who want more money, romance, spiritual purity, and professional advancement—but none for those of us who define success as overthrowing global capitalism. Until now! This is a full-color, 365-day perpetual desk calendar. Flip to a new page each day. The dates are printed but not the weekdays or year, so you can use it over and over. Page size is 5″ x 5.5″.
If you buy 5 or more you get the bulk rate of $14.97, which will be automatically be applied to your cart.

Check out other work by Stephanie here!