---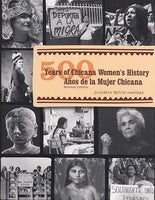 by Elizabeth "Betita" Martinez
Rutgers University Press
2009, paperback

Bilingual Edition
SKU: 9780813542249
500 Years of Chicana Women's History The history of Mexican Americans spans more than five centuries and varies from region to region across the United States. Yet most of our history books devote at most a chapter to Chicano history, with even less attention to the story of Chicanas.
500 Years of Chicana Women's History offers a powerful antidote to this omission with a vivid, pictorial account of struggle and survival, resilience and achievement, discrimination and identity. The bilingual text, along with hundreds of photos and other images, ranges from female-centered stories of pre-Columbian Mexico to profiles of contemporary social justice activists, labor leaders, youth organizers, artists, and environmentalists, among others. With a distinguished, seventeen-member advisory board, the book presents a remarkable combination of scholarship and youthful appeal.
From the women who fought and died in the Mexican Revolution to those marching with their young children today for immigrant rights, every story draws inspiration. Like the editor's previous book, 500 Years of Chicano History (still in print after 30 years), this thoroughly enriching view of Chicana women's history promises to become a classic.