---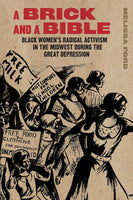 by Melissa Ford
Southern Illinois University Press
4/28/2023, paperback
SKU: 9780809338559
Uncovering the social revolution led by Black women in the heartland
In this first study of Black radicalism in midwestern cities before the civil rights movement, Melissa Ford connects the activism of Black women who championed justice during the Great Depression to those involved in the Ferguson Uprising and the Black Lives Matter movement. A Brick and a Bible examines how African American working-class women, many of whom had just migrated to "the promised land" only to find hunger, cold, and unemployment, forged a region of revolutionary potential.
A Brick and a Bible theorizes a tradition of Midwestern Black radicalism, a praxis-based ideology informed by but divergent from American Communism. Midwestern Black radicalism that contests that interlocking systems of oppression directly relates the distinct racial, political, geographic, economic, and gendered characteristics that make up the American heartland. This volume illustrates how, at the risk of their careers, their reputations, and even their lives, African American working-class women in the Midwest used their position to shape a unique form of social activism.
Case studies of Detroit, St. Louis, Chicago, and Cleveland--hotbeds of radical activism--follow African American women across the Midwest as they participated in the Ford Hunger March, organized the Funsten Nut Pickers' strike, led the Sopkin Dressmakers' strike, and supported the Unemployed Councils and the Scottsboro Boys' defense. Ford profoundly reimagines how we remember and interpret these "ordinary" women doing extraordinary things across the heartland. Once overlooked, their activism shaped a radical tradition in midwestern cities that continues to be seen in cities like Ferguson and Minneapolis today.

Reviews:
"In A Brick and a Bible, radical Black working-class women take center stage as the shapers of their own destinies. By charting these women's diverse engagement with Communist-affiliated groups across the Midwest, Melissa Ford reveals the centrality of the region as a key site for Black radical politics. With clarity and grace, Ford recovers the stories of Black women determined to bring an end to race, gender, and class oppression." -- Keisha N. Blain, author of Until I Am Free: Fannie Lou Hamer's Enduring Message to America
"Ford challenges lingering misconceptions of a Midwest that is white, homogenous, conservative, and male-dominated. Through her investigation of Black women's radical activism not only does she articulate the uniqueness of the region, but she also argues that intraregional particularities must be considered. Ford convincingly argues that the radical Black Midwest is not only place, but praxis."-- Ashley Howard, author of Then the Burnings Began: Omaha's Urban Revolts and the Meaning of Political Violence
About the Author:
Melissa Ford is an assistant professor at Slippery Rock University specializing in African American history. Her work has appeared in American Communist History. She is a former Black Metropolis Research Consortium fellow.