---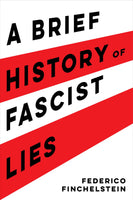 by Federico Finchelstein
University of California Press
05/03/2022, paperback
SKU: 9780520389779
In this short companion to his book From Fascism to Populism in History, world-renowned historian Federico Finchelstein explains why fascists regarded simple and often hateful lies as truth, and why so many of their followers believed the falsehoods. Throughout the history of the twentieth century, many supporters of fascist ideologies regarded political lies as truth incarnated in their leader. From Hitler to Mussolini, fascist leaders capitalized on lies as the base of their power and popular sovereignty.
This history continues in the present, when lies again seem to increasingly replace empirical truth. Now that actual news is presented as "fake news" and false news becomes government policy, A Brief History of Fascist Lies urges us to remember that the current talk of "post-truth" has a long political and intellectual lineage that we cannot ignore.
Reviews:
"There is no better book on fascism's complex and vexed relationship with truth." -- Jason Stanley, author of How Fascism Works: The Politics of Us and Them
"At a time when politicians like Donald Trump and Jair Bolsonaro claim that information they don't like is 'fake news, ' Finchelstein's history of fascist lying strikes a chord. From Mussolini onward, truth is what the leader needs it to be." -- Ruth Ben-Ghiat, Professor of Italian and History, New York University
About the Author:
Federico Finchelstein is Professor of History at the New School for Social Research and Eugene Lang College in New York City. He is the author of several books, including Fascist Mythologies, From Fascism to Populism in History, Transatlantic Fascism, and The Ideological Origins of the Dirty War. His books have been translated into many languages, including Spanish, Portuguese, Turkish, and Italian. He contributes to major American, European, and Latin American media, including the New York Times, the Washington Post, the Guardian, CNN, Foreign Policy, Clarín, Corriere della Sera, Nexos, and Folha de S.Paulo.