---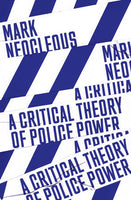 by Mark Neocleous
Verso
1/12/2021, paperback
SKU: 9781788735209
Putting police power into the centre of the picture of capitalism.
The ubiquitous nature and political attraction of the concept of order has to be understood in conjunction with the idea of police. Since its first publication, this book has been one of the most powerful and wide-ranging critiques of the police power. Neocleous argues for an expanded concept of police, able to account for the range of institutions through which policing takes place. These institutions are concerned not just with the maintenance and reproduction of order, but with its very fabrication, especially the fabrication of a social order founded on wage labour. By situating the police power in relation to both capital and the state and at the heart of the politics of security, the book opens up into an understanding of the ways in which the state administers civil society and fabricates order through law and the ideology of crime. The discretionary violence of the police on the street is thereby connected to the wider administrative powers of the state, and the thud of the truncheon to the dull compulsion of economic relations.
Reviews:
"If you want to understand the origins and purpose of police powers, and their relation to law, to the state, and to bourgeois social order, there is no better author than Mark Neocleous and no better book than this." --David Correia, author of Police: A Field Guide
"Mark Neocleous's modern classic has never been more timely. The substantial new Introduction takes this pioneering text into the present with a trenchant discussion of recent events and debates. In its coruscating critique of the failures of a liberal response to police power, it is, again, a provocative and urgent intervention." --Stuart Elden
About the Author:
Mark Neocleous is Professor of the Critique of Political Economy at Brunel University London.