---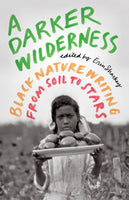 Sale
Edited by Erin Sharkey
Milkweed Editions
2/14/2023, paperback
SKU: 9781571313904
A vibrant collection of personal and lyric essays in conversation with archival objects of Black history and memory.
What are the politics of nature? Who owns it, where is it, what role does it play in our lives? Does it need to be tamed? Are we ourselves natural? In A Darker Wilderness, a constellation of luminary writers reflect on the significance of nature in their lived experience and on the role of nature in the lives of Black folks in the United States. Each of these essays engages with a single archival object, whether directly or obliquely, exploring stories spanning hundreds of years and thousands of miles, traveling from roots to space and finding rich Blackness everywhere.
Erin Sharkey considers Benjamin Banneker's 1795 almanac, as she follows the passing of seasons in an urban garden in Buffalo. Naima Penniman reflects on a statue of Haitian revolutionary François Makandal, within her own pursuit of environmental justice. Ama Codjoe meditates on rain, hair, protest, and freedom via a photo of a young woman during a civil rights demonstration in Alabama. And so on--with wide-ranging contributions from Carolyn Finney, Ronald Greer II, Alexis Pauline Gumbs, Sean Hill, Michael Kleber-Diggs, Glynn Pogue, Katie Robinson, and Lauret Savoy--unearthing evidence of the ways Black people's relationship to the natural world has persevered through colonialism, slavery, state-sponsored violence, and structurally racist policies like Jim Crow and redlining.
A scrapbook, a family chest, a quilt--and an astounding work of historical engagement and literary accomplishment--A Darker Wilderness is a collection brimming with abundance and insight.
Reviews:
"A response to the absence of Black literature about attachment to the American landscape, [A Darker Wilderness is] a multigenerational dwelling place that is both internal and external. An abundance of relevant themes emerge: home as refuge, seeking freedom amid social oppression, gardens as healers, and the complex history of Black landownership... A well-curated assemblage of Black voices that draws profound connections among family, nature, aspiration, and loss." -- Kirkus Reviews, starred review
"A Darker Wilderness is a remarkable collection of essays regarding generational experiences of the natural world... Some essays are tender and quiet; others are forceful calls to action; still others uncover natural magic in unsuspecting places. Each is creative and revelatory." -- Foreword Reviews, starred review

"In A Darker Wilderness, Erin Sharkey has created and assembled the most important anthology of this decade. Here, we sit and sift through the unexpected explorations of Black folk and the wonders of our experiences with woods. This book feels like a beautifully layered black forest that must be experienced."-- Kiese Laymon, author of Heavy
"This beautiful collection of essays offers thoroughgoing contemplations of the vexing, heartbreaking, miraculous, and wonderful questions of Black people and the land, Black people and the earth, which, as far as I'm concerned, are among the most important questions there are. I'm so glad, so grateful, to have A Darker Wilderness as guide and friend; I'm so glad we get to ask those questions together." -- Ross Gay, author of The Book of Delights
About the Editor:
Erin Sharkey is a writer, arts and abolition organizer, cultural worker, and film producer based in Minneapolis. She is the cofounder, with Junauda Petrus, of an experimental arts collective called Free Black Dirt and is the producer of film projects including Sweetness of Wild, an episodic web film project, and Small Business Revolution (Hulu), which explored challenges and opportunities for Black-owned businesses in the Twin Cities in the summer of 2021. Sharkey has received fellowships and residencies from the Loft Mentor Series, VONA/Voices, the Givens Foundation, Coffee House Press, the Bell Museum of Natural History, and the Jerome Foundation. In 2021, Sharkey was awarded the Black Seed Fellowship from Black Visions and the Headwaters Foundation. She has an MFA in creative writing from Hamline University and teaches with the Minnesota Prison Writing Workshop.