---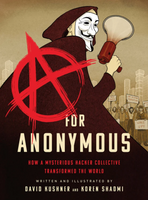 by David Kushner, Illustrated by Koren Shadmi
Bold Type Books
3/31/2020, paperback
SKU: 9781568588780
The illustrated, inside story of the legendary hacktivist group's origins and most daring exploits.
A for Anonymous shows how a leaderless band of volunteers successfully used hacktivism to fight for the underdog, embarrass their rich and powerful targets--from Sony and Paypal to the Church of Scientology and Ferguson Police Department--all in the name of freedom of speech and information. Their exploits blurred the distinction between online and reality, and help shape our contemporary world.
Reviews:
"Scenes of hacktivists sitting at their computers are made compelling by Shadmi's clever use of surrealist imagery. A thought-provoking history of an oft-misunderstood subject, as well as the evolution of social protests over the past three decades." -- Library Journal
About the Contributors:
David Kushner is an award-winning journalist and author. A contributing editor of Rolling Stone, Kushner has written for publications including The New Yorker, Vanity Fair, Wired, New York Times Magazine, and GQ. His books include Masters of Doom and Alligator Candy. Kushner is also author of the graphic novel Rise of the Dungeon Master, illustrated by Koren Shadmi.
Koren Shadmi is a Brooklyn-based illustrator and cartoonist; he studied illustration in the School of Visual Arts in NYC, where he now teaches. His graphic novels include Rise of the Dungeon Master, and his work has been published in the The New York Times, The New Yorker, The Washington Post, Playboy, and Wired.