---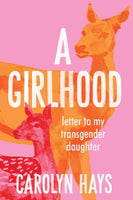 by Carolyn Hays
Blair
9/13/2022, hardcover
SKU: 9781949467901
A parent's love letter to a daughter who has always known exactly who she is.
One ordinary day, a caseworker from the Department of Children and Families knocked on the Hays family's door to investigate an anonymous complaint about the upbringing of their transgender child. It was this knock, this threat, that began the family's journey out of the Bible Belt but never far from the hate and fear resting at the nation's core.
Self-aware and intimate, A Girlhood asks us all to love better, not just for the sake of Hays's child but for children everywhere enduring injustice and prejudice just as they begin to understand themselves. A Girlhood is a call to action, an ode to community, a plea for empathy, a hope for a better future. A Girlhood is a love letter to a child who has always known exactly who she is--and who is waiting for the rest of the world to catch up.
Reviews:

"Touching, combative, compelling... this memoir begins with the suspense of a thriller and ends with... hope." -- Vogue [Italian edition]

"Hays here presents a different view of God--as a being of pure love that would never consider her daughter a mistake, but instead, a gift." -- Nylah Burton for Oprah Daily
"An incredibly poignant and timely story for trans families everywhere. I wish my parents had access to these words, stories, and beautiful thoughts while raising me." --Tommy Dorfman, actress, writer, director
"Carolyn Hays's memoir is searing, haunting, and inspiring. It's a story that asks us to consider what we would do if the simple act of loving our own child threatened to cost us everything. In prose memorable for its gentleness and wisdom, Hays's story is about more than the transgender question: it's about ignorance and wisdom; hatred and love; men, women, and children. In the end, A Girlhood is about all of us." -- Jennifer Finney Boylan, author of She's Not There and Good Boy
"A Girlhood is a transfixing odyssey of a mother stewarding a preternaturally wise child, and an American family circling to protect that child.... I saw facets of my own trans identity I'd never pondered, questions about the construction of self I'd never even thought to pose. At one point Hays says, 'I want you to build a full rich library of your girlhood -- not the story of someone you had to pretend to be.' The radical positivity of that sentiment put me in tears... A Girlhood is... an act of epic compassion." -- Diana Goetsch, author of This Body I Wore
"Poignant... [a] clear-eyed, love-filled tale." -- Booklist
About the Author:
Carolyn Hays is an award-winning, critically acclaimed, bestselling author who has chosen to publish to A Girlhood: Letter to My Transgender Daughter under a pen name to protect the privacy of her family. Her novels have been published by Hachette, Simon and Schuster, and HarperCollins; her books are also widely translated. A Girlhood will have four overseas editions, including those by Picador UK and Flammarion in France. Her past books have been listed as New York Times Notable Books of the Year and Kirkus's Best Fiction of the Year, and she's written for National Public Radio and the Washington Post.