---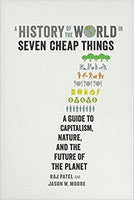 by Raj Patel and Jason W. Moore
University of California Press
7/30/2018, paperback
SKU: 9780520299931
Nature, money, work, care, food, energy, and lives: these are the seven things that have made our world and will shape its future. In making these things cheap, modern commerce has transformed, governed, and devastated Earth.
In A History of the World in Seven Cheap Things, Raj Patel and Jason W. Moore present a new approach to analyzing today's planetary emergencies. Bringing the latest ecological research together with histories of colonialism, indigenous struggles, slave revolts, and other rebellions and uprisings, Patel and Moore demonstrate that throughout history, crises have always prompted fresh strategies to make the world cheap and safe for capitalism. At a time of crisis in all seven cheap things, innovative and systemic thinking is urgently required. This book proposes a radical new way of understanding--and reclaiming--the planet in the turbulent twenty-first century.
About the Authors:
Raj Patel is an award-winning writer, activist, and academic. He is Research Professor in the Lyndon B. Johnson School of Public Affairs at the University of Texas, Austin and Senior Research Associate at the Unit for the Humanities at Rhodes University. He is the author of Stuffed and Starved: The Hidden Battle for the World Food System and The Value of Nothing: How to Reshape Market Society and Redefine Democracy.
Jason W. Moore teaches world history and world-ecology at Binghamton University and is coordinator of the World-Ecology Research Network. He is the author of several books, including Capitalism in the Web of Life: Ecology and the Accumulation of Capital, and numerous award-winning essays in environmental history, political economy, and social theory.