---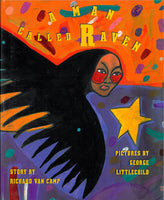 by Richard Van Camp, Pictures by George Littlechild
Children's Book Press
1997, paperback
SKU: 9780892391448
When Chris and Toby Greyeyes find a raven in the garage, they try to trap it and hurt it with hockey sticks. To them, ravens are just a nuisance because they spread garbage all over the street. Or so they think-until a mysterious man who smells like pine needles enters their lives and teaches them his story of the raven.
In this intriguing book, A Man Called Raven, George Littlechild, internationally acclaimed artist and author of the Jane Addams Award-winning book This Land Is My Land, returns to collaborate with Richard Van Camp, an exciting voice in Native American literature.
Set in the Northwest Territories of Canada, Van Camp's contemporary story draws from the animal legends and folklore told to him by his Dogrib elders. Littlechild's bold use of color and perspective captures the sense of mystery and magic surrounding the strange raven man who teaches the boys the meaning of respect for nature.
Blending past with present, the magical with the real, A Man Called Raven is both a tribute to the wisdom of the raven and a positive reminder that we can all learn from nature.