---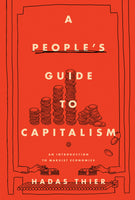 by Hadas Thier
Haymarket Books
8/24/2020, paperback
SKU:  9781642591699
Economists regularly promote Capitalism as the greatest system ever to grace the planet. With the same breath, they implore us to leave the job of understanding the magical powers of the market to the "experts."

Despite the efforts of these mainstream commentators to convince us otherwise, many of us have begun to question why this system has produced such vast inequality and wanton disregard for its own environmental destruction. This book offers answers to exactly these questions on their own terms: in the form of a radical economic theory.
Reviews:
"When Marxist economics becomes usable by the people most threatened by capitalism--that is when it becomes great and dangerous. Hadas Thier's urgently needed book strips away jargon to make Marx's essential work accessible to today's diverse mass movements." --Sarah Leonard, contributing editor to the Nation

"Economists have every incentive to mystify their craft and to dress up their political judgments as scientific fact. Hadas Thier's A People's Guide to Capitalism is a thorough and accessible corrective, and sure to be an important primer for generations of activists." --Bhaskar Sunkara, founding editor of Jacobin
About the Author:
Hadas Thier is an activist, writer, and socialist, and in her spare time, an amateur paleontologist (aka mom to a toddler). Hadas lives in Brooklyn, NY.