---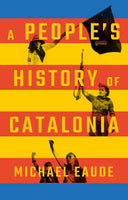 by Michael Eaude
Pluto Press
09/20/2022, paperback
SKU: 9780745342139
A history of Catalonia and its struggle for independence, from the 10th century to the present day
At every home game of FC Barcelona, at 17 minutes and 14 seconds of play, the 100,000-capacity Camp Nou stadium is filled by the roar of "IN-DE-PEN-DÈN-CI-A!" Time stops for a second. History lives in the present...
Catalonia's national consciousness has deep roots. There are countries twice the size with histories half as interesting. A People's History of Catalonia tells that history, from below, in all its richness and complexity. The region's struggle for independence has, for centuries, been violently resisted, the Catalan language suppressed and its leaders jailed. The fight of an oppressed nation for its sovereignty has often dovetailed with that of a militant working class for social justice.
From the peasant revolts of the 15th century and the siege of Barcelona in 1714, to defeat in the Spanish Civil War, and the slow re-emergence of the workers' movement and anti-Francoist resistance in the years that followed, Michael Eaude tells a compelling story whose ending has yet to be written.
Reviews:
"Catalonia's aspiration to cut loose from the Spanish state is often dismissed as the whim of a self-interested merchant class. The truth is more complicated. As Michael Eaude's sharp, engrossing, and comprehensive historical narrative makes clear, the centuries-long push for Catalan independence is closely entwined with the peasant- and working-class struggle for social justice and democratic government" -- Sebastiaan Faber, author of Exhuming Franco
"This well-written study takes us on a much-needed historical journey from below, eloquently capturing the rebellious traditions of Catalonia's assertive and proudly defiant popular classes from medieval times to today. By combining broad strokes and intricate detail, he establishes crucial connections between past and contemporary struggles to produce a vivid picture of the class war in a fractured and divided society that produced, in many respects, the most far-reaching social revolution in European history" -- Chris Ealham, author of Anarchism And The City
About the Author:
Michael Eaude has lived between Barcelona and the hills of Valencia for thirty years. He is the author of several books including Catalonia: A Cultural History and Triumph at Midnight in the Century: A Critical Biography of Arturo Barea. He has written for the Guardian, Literary Review and Socialist Review.