---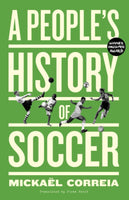 by Mickaël Correia, translated by Fionn Petch
Pluto Press
10/20/2023, paperback
SKU: 9780745348766
Soccer is so much more than the billionaire buyers and eye-watering signing fees that dominate the headlines. Look beyond the Premiership and the World Cup, the sublime brilliance of Messi and Mbappé, and you'll find a story unparalleled in the world of sport.
From England, France and Germany to Palestine, South Africa and Brazil, A People's History of Soccer reveals how the 'beautiful game' has been a powerful instrument of emancipation for workers, feminists, anti-colonialist activists, young people and protesters around the world.
Mickaël Correia's history from below retraces the journeys of professionals, amateurs and enthusiasts alike. Countering the clichés about soccer fans, he dives into countercultures born after the Second World War, from English hooligans to the ultras who played a central role in the Arab Spring. And with chapters on anti-fascism, the women's game, and the rise in community-owned clubs, Correia reminds us that soccer can be a powerful social and political force - as generous as it is subversive.
Reviews:
"A fascinating journey through the game's history. While so much of today's attention is on the highest end of the sport- the money and the glory associated with today's biggest stars- football has always been about so much more: a vehicle of expression, of example and of change. A People's History of Football tells the stories of how, why and when." -- Shaka Hislop, former footballer, anti-racist educator and broadcaster
"Correia takes us around the world to examine how soccer has produced the kind of political energy that can change minds and even topple governments. But despite his global jaunt into many corners of the soccer world, there is nothing superficial here. This book is about the politics of passion and they sing from every page." -- Dave Zirin, Sports Editor, The Nation, author of A People's History of Sports in the United States

About the Contributors:
Mickaël Correia is a journalist at Mediapart. He is the author of several books, and his work focuses on social and ecological struggles as well as working-class culture. He has written for Le Monde Diplomatique, Le Canard Enchaîné and La Revue du Crieur. His passion for football began when he was 4, with kickabouts on the streets of Roubaix.
Fionn Petch is a Scottish translator with a doctorate in philosophy from the National University of Mexico. As a translator, he has translated fiction, poetry, drama and children's books. He also works on books and exhibition catalogues on art and architecture. Among his noted translations are A Straggly Smile by Vanessa Saint Cyr, The Distance Between Us by Renato Cisneros and Fireflies by Luis Sagasti.