---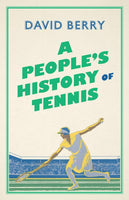 by David Berry
Pluto Press
5/15/2020, paperback
SKU: 9780745339658
Pristine lawns, tennis whites, strawberries and cream, tennis is synonymous with the upper echelons of society, but scratch beneath the surface and you'll quickly discover a different history, one of untold struggles on and off the courts. From the birth of modern tennis in Victorian Britain to the present day, we bear witness to struggles around sexuality, gender, race and class that have transformed the nature of tennis and sport itself. A People's History of Tennis is populated by diverse voices, recounting the sport's gay origins, 'Workers' Wimbledon', battles for gender equality and more. Going beyond centre court, this book reveals the hidden history of the game, providing a rich account of the challenges faced and victories won.

Reviews:
"David Berry's delightfully gossipy book delves into the personal histories of tennis players famous and unknown. He lovingly charts the progress of the game since its beginnings in the Victorian period and explains why so many people, players and spectators, love it." -- Elizabeth Wilson author of Love Game: A History of Tennis, from Victorian Pastime to Global Phenomenon
"A suffragette plot to burn down Wimbledon, Jewish quotas at your local tennis club, All England Married Couples Championships - you think you know tennis and then along comes this compelling little gem by David Berry, positing a progressive social history of the sport that surprises and delights. Hugely enjoyable and highly informative." -- David Cohen, Investigations Editor at the London Evening Standard
About the Author:
David Berry is a writer, journalist and filmmaker. He has written about health and leisure for a variety of publications, and for twenty-five years he was a documentary director for the BBC. He has been playing tennis since he was eleven years old.