---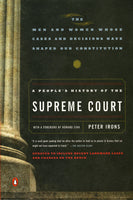 by Peter Irons, forward by Howard Zinn
Penguin
07/26/2006, paperback
SKU: 9780143037385
A comprehensive history of the people and cases that have changed history, this is the definitive account of the nation's highest court featuring a forward by Howard Zinn
Recent changes in the Supreme Court have placed the venerable institution at the forefront of current affairs, making this comprehensive and engaging work as timely as ever. In the tradition of Howard Zinn's classic A People's History of the United States, Peter Irons chronicles the decisions that have influenced virtually every aspect of our society, from the debates over judicial power to controversial rulings in the past regarding slavery, racial segregation, and abortion, as well as more current cases about school prayer, the Bush/Gore election results, and enemy combatants. To understand key issues facing the supreme court and the current battle for the court's ideological makeup, there is no better guide than Peter Irons. This revised and updated edition includes a foreword by Howard Zinn.
Reviews:
"... a history of the Supreme Court that breathes life into the dry language of the judicial system, that looks behind the cases to the human beings crucial to the cases but long forgotten, that examines the realities of social conflict beneath the surface of legal argument." -- Howard Zinn, author of A People's History of the United States
"A sophisticated narrative history of the Supreme Court... [Irons] breathes abundant life into old documents and reminds readers that today's fiercest arguments about rights are the continuation of the endless American conversation." -- Publisher's Weekly 
"This sweeping history of the Supreme Court will thoroughly aggravate anyone who believes, along with Robert Bork or Justice Antonin Scalia that the Constitution should be read narrowly." -- Kirkus Review
About the Author:
Peter Irons is Professor of Political Science at the University of California, San Diego. He is the author of five previous award-winning books. The most recent, A People's History of the Supreme Court, was awarded the Silver Gavel Certificate of Merit by the American Bar Association.