---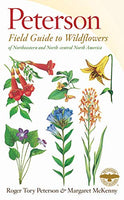 by Roger Tory Peterson and Margaret McKenny
Mariner Books
3/15/1998, paperback
SKU: 9780395911723
Grouped by color and by plant characteristics, 1,293 species in 84 families are described and illustrated.
Included here are all the flowers you're most likely to encounter in the eastern and north-central U.S., westward to the Dakotas and southward to North Carolina and Arkansas, as well as the adjacent parts of Canada.
About the Author:
Roger Tory Peterson, one of the world's greatest naturalists, received every major award for ornithology, natural science, and conservation as well as numerous honorary degrees, medals, and citations, including the Presidential Medal of Freedom. The Peterson Identification System has been called the greatest invention since binoculars.