---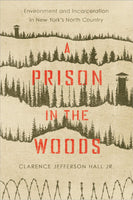 by Clarence Jefferson Hall Jr.
University of Massachusetts Press
11/27/2020, paperback
SKU: 9781625345363
Since the mid-nineteenth century, Americans have known the Adirondack Mountains of upstate New York as a site of industrial production, a place to heal from disease, and a sprawling outdoor playground that must be preserved in its wild state. Less well known, however, has been the area's role in hosting a network of state and federal prisons. A Prison in the Woods traces the planning, construction, and operation of penitentiaries in five Adirondack Park communities from the 1840s through the early 2000s to demonstrate that the histories of mass incarceration and environmental consciousness are interconnected.
Clarence Jefferson Hall Jr. reveals that the introduction of correctional facilities — especially in the last three decades of the twentieth century — unearthed long-standing conflicts over the proper uses of Adirondack nature, particularly since these sites have contributed to deforestation, pollution, and habitat decline, even as they've provided jobs and spurred economic growth. Additionally, prison plans have challenged individuals' commitment to environmental protection, tested the strength of environmental regulations, endangered environmental and public health, and exposed tensions around race, class, place, and belonging in the isolated prison towns of America's largest state park.
Reviews:
"This is a pivotal study in the history of carceral systems in the United States. Hall brings together two seemingly dissimilar developments in the Adirondack region — prison development and the rise of environmental consciousness — and in the process adds significantly to our understanding of prison history." — Richard W. Judd, author of Second Nature: An Environmental History of New England

About the Author:
Clarence Jefferson Hall Jr. is an assistant professor of history at Queensborough Community College.