---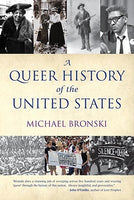 by Michael Bronski
Beacon Press
2012, paperback
SKU: 9780807044650
Winner of the 2012 American Library Association's Israel Fishman Non-Fiction/ Stonewall Book Award
A Queer History of the United States is more than a "who's who" of queer history: it is a book that radically challenges how we understand American history. Drawing upon primary-source documents, literature, and cultural histories, scholar and activist Michael Bronski charts the breadth of lesbian, gay, bisexual, and transgender history, from 1492 to the 1990s.
A Queer History of the United States is groundbreaking and accessible. It looks at how American culture has shaped the LGBT, or queer, experience, while simultaneously arguing that LGBT people not only shaped but were pivotal in creating our country. Using numerous primary documents and literature, as well as social histories, Bronski's book takes the reader through the centuries--from Columbus' arrival and the brutal treatment the Native peoples received, through the American Revolution's radical challenging of sex and gender roles--to the violent, and liberating, 19th century--and the transformative social justice movements of the 20th. Bronski's book is filled with startling examples of often ignored or unknown aspects of American history: the ineffectiveness of sodomy laws in the colonies, the prevalence of cross-dressing women soldiers in the Civil War, the effect of new technologies on LGBT life in the 19th century, and how rock music and popular culture were, in large part, responsible for the great backlash against gay rights in the late 1970s. More than anything, A Queer History of the United States is not so much about queer history as it is about all American history--and why it should matter to both LGBT people and heterosexuals alike.
Part of Beacon Press's ReVisioning History series. You can see the whole collection here. 
Reviews:
"Bronski does a stunning job of sweeping across five hundred years and weaving 'queer' through the history of this nation. Always insightful, and provocative."—John D'Emilio, author of Lost Prophet

"In the age of Twitter and reductive history, we need a complex, fully realized, radical reassessment of history-and A Queer History of the United States is exactly that. Along the way, there are enough revelations and reassessments to fuel dozens of arguments about how we got to where we are today. I don't know when I have enjoyed a history so much."-Dorothy Allison, author of Bastard Out of Carolina

"Bronski has that rare ability to comprehensively synthesize a large body of material without simplifying or distorting it, taking as much care with historical evidence as with the shifts in language necessary to accurately understand it. Equally prudent with his definitions and generalizations, the result is a thoroughly accessible and reliable account that is as deeply informative as it is pleasurable to read."-Martin Duberman, Distinguished Professor of History Emeritus, City University of New York
About the Author:
Michael Bronski is professor of practice in media and activism in the Women, Gender, and Sexuality Program at Harvard University. He has written extensively on LGBT issues for four decades, in both mainstream and queer publications, and is the author of three other books and editor of several anthologies.