---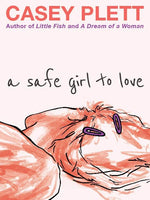 by Casey Plett
Arsenal Pulp Press
4/4/2023, paperback
SKU: 9781551529134
A new edition of the acclaimed debut story collection by two-time Lambda Literary Award winner Casey Plett.

By the author of Little Fish and A Dream of a Woman: eleven unique short stories featuring young trans women stumbling through loss, sex, harassment, and love in settings ranging from a rural Mennonite town to a hipster gay bar in Brooklyn. These stories, shiny with whiskey and prairie sunsets, rattling subways and neglected cats, show that growing up as a trans girl can be charming, funny, frustrating, or sad, but will never be predictable.

A Safe Girl to Love, winner of the Lambda Literary Award for transgender fiction, was first published in 2014. Now back in print after a long absence, this new edition includes an afterword by the author.
Reviews:
"I was a fan of Casey Plett's writing for McSweeney's, but it only hinted at the depth of humor and feeling in her fiction. Her prose is reminiscent of Lorrie Moore and Miriam Toews, but there are both a tenderness and a willingness to confront bleak truths in Plett's writing that are all her own. I love this book." ― Imogen Binnie, author of Nevada
"Plett's stories show kindness at the same time as they show clear-eyed judgment, both of which we need. She writes beautifully about dressing rooms, balcony plants, house parties, the paramount importance of keeping your obligations to your cats. She takes us into the knot of really accurately rendered bonds of old friendships, families, queer solidarities, and she shows us how we can live there." ― Jeanne Thornton, author of Summer Fun and The Black Emerald
"An astounding debut by an original new literary voice." ― Zoe Whittall, author of The Spectacular and The Best Kind of People
About the Author:
Casey Plett is the two-time Lambda Literary Award-winning author of the novel Little Fish and the story collections A Dream of a Woman and A Safe Girl to Love; the co-editor of Meanwhile, Elsewhere: Science Fiction and Fantasy From Transgender Writers; and the publisher at LittlePuss Press.