---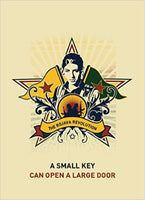 Edited by Strangers in a Tangled Wilderness
Combustion Books
2015, paperback
SKU: 9781938660177
There's a revolution going on in northern Syria, one that challenges everything we know about government and society and freedom. With centuries of ethnic oppression behind them, their backs against the embargo wall of Turkey, and the ruthless forces of the Islamic State laying siege to their cities, the people of Rojava are trying what might be the most ambitious social experiment of our times. Two-and-a-half million people are trying to live without a nationstate, using direct democracy to build a society ruled from the bottom up. As the Syrian civil war rages, the Kurds and other ethnic groups of Rojava fight for autonomy, feminism, ecological stewardship, cooperative economics, and ethnic, linguistic, and religious pluralism.
Based on their own history of struggle and on the writings of social ecologist Murray Bookchin, the people of Rojava have developed an anti-state and anti-capitalist way of life. It's a way of life that values feminism, direct democracy, ecological stewardship, and ethnic, linguistic, and religious pluralism. And right now, 2.5 million people are trying their hardest to defend their revolution against ISIS attacks from the south and an international trade embargo ruthlessly enforced by Turkey to the north.
Between language barriers, cultural barriers, and an international trade embargo, it can be hard to understand what is happening there. It can be hard to understand how to support the people of Rojava in their revolution. But in this short book, scholars and militia fighters alike explore and explain the situation in plain language. They discuss the Rojava principles that bind the region together and they discuss what it means to be in solidarity with those fighting in Rojava. But even beyond that, they discuss what we can learn from the brave women and men of Rojava.