---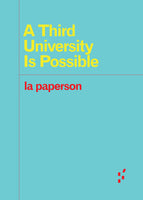 by la paperson
University of Minnesota Press
6/1/2017, paperback
SKU: 9781517902087
A Third University is Possible unravels the intimate relationship between the more than 200 US land grant institutions, American settler colonialism, and contemporary university expansion. Author la paperson cracks open uncanny connections between Indian boarding schools, Black education, and missionary schools in Kenya; and between the Department of Homeland Security and the University of California. Central to la paperson's discussion is the "scyborg," a decolonizing agent of technological subversion.
Drawing parallels to Third Cinema and Black filmmaking assemblages, A Third University is Possible ultimately presents new ways of using language to develop a framework for hotwiring university "machines" to the practical work of decolonization.
Forerunners: Ideas First is a thought-in-process series of breakthrough digital publications. Written between fresh ideas and finished books, Forerunners draws on scholarly work initiated in notable blogs, social media, conference plenaries, journal articles, and the synergy of academic exchange. This is gray literature publishing: where intense thinking, change, and speculation take place in scholarship.
About the Author:
La paperson is also K. Wayne Yang, an associate professor of ethnic studies at the University of California, San Diego.