---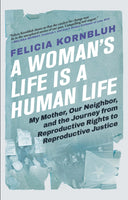 by Felicia Kornbluh

Grove Press
1/17/2023, hardcover
SKU: 9780802160683
Published to coincide with the fiftieth anniversary of Roe v. Wade, this urgent book from historian Felicia Kornbluh reveals two movement victories in New York that forever changed the politics of reproductive rights nationally
Before there was a "Jane Roe," the most important champions of reproductive rights were ordinary people working in their local communities. In A Woman's Life Is a Human Life, historian Felicia Kornbluh delivers the untold story of everyday activists who defined those rights and achieved them, in the years immediately before and after Roe
v. Wade made abortion legal under federal law.
A Woman's Life Is a Human Life is the story of two movements in New York that transformed the politics of reproductive rights: the fight to decriminalize abortion and the fight against sterilization abuse, which happened disproportionately in communities of color and was central to an activism that was about the right to bear children, as well as not to. Each initiative won key victories that relied on people power and not on the federal courts. Their histories cast new light on Roe and constitutional rights, on the difficulty and importance of achieving a truly inclusive feminism, and on reproductive politics today.
This is a book full of drama. From dissident Democrats who were the first to try reforming abortion laws and members of a rising feminist movement who refashioned them, to the nation's largest abortion referral service established by progressive Christian and Jewish clergy, to Puerto Rican activists who demanded community accountability in healthcare and introduced sterilization abuse to the movement's agenda, and Black women who took the cause global, A Woman's Life Is a Human Life documents the diverse ways activists changed the law and worked to create a world that would support all people's reproductive choices.
The first in-depth study of a winning campaign against a state's abortion law and the first to chronicle the sterilization abuse fight side-by-side with the one for abortion rights, A Woman's Life Is a Human Life is rich with firsthand accounts and previously unseen sources--including those from Kornbluh's mother, who wrote the first draft of New York's law decriminalizing abortion, and their across-the-hall neighbor, Dr. Helen Rodríguez-Trías, a Puerto Rican doctor who cofounded the movement against
sterilization abuse. In this dynamic, surprising, and highly readable history, Felicia Kornbluh corrects the record to show how grassroots action overcame the odds to create policy change--and how it might work today.
Reviews:
"This long-needed essential history fills our gap of understanding of how the concept of reproductive rights, a recognition of the multiple issues that women need in order to have reproductive control over our lives, grew from grassroots movements in the creative and dynamic environment of New York City in the 1970's and 80's. This expansion of understanding on a big-tent political model, was ultimately defeated by the rise of the religious right and its coalition with economic conservatives, colliding with the personal limits of the individuals who created a radical alternative to single issue abortion rights politics. However, they won significant victories to combat sterilization abuse and expanded the collective analysis for the future. Felicia Kornbluh makes an important and enlightening contribution to the history of American radicalism and social movements." -- Sarah Schulman, author of Let the Record Show: A Political History of ACT UP, NY 1987-1993
"A Woman's Life is a Human Life charts the organizing for legal abortion alongside the work to eliminate sterilization abuse. Kornbluh argues persuasively that activists won legal abortion and regulations to prevent coerced sterilization through intensive, years-long, multi-racial grassroots organizing. At the same time, she reveals the tactics that succeeded as well as the divisions and mistakes that arose from homophobia and white middle-class racial privilege. This detailed and lively history of the New York movement will be an important handbook for today's reproductive rights activists." -- Leslie J. Reagan, author of When Abortion Was a Crime
"Both timely and engaging, this insightful study reveals that the battle for abortion rights must be considered only one part of a much larger, more complex struggle that needs to address the protection of the sexual freedom and choices of all women. Necessary reading for anyone worried about this post-Dobbs world." -- Kirkus Reviews
About the Author:
Felicia Kornbluh is Professor of History at the University of Vermont with a secondary appointment in Gender, Sexuality and Women's, and an affiliated faculty member in Jewish Studies, at the University of Vermont. She is the author of The Battle for Welfare Rights: Politics and Poverty in Modern America and coauthor, with Gwendolyn Mink, of Ensuring Poverty: Welfare Reform in Feminist Perspective. She is a former board member of Planned Parenthood of Northern New England and current board vice president of the Planned Parenthood of Vermont Action Fund. Kornbluh lives in Williston, VT, with her spouse and two black cats.