---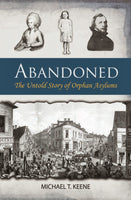 by Michael Keene
Willow Manor Publishing
2014
SKU: 9781939688071
In 1848 a great famine gripped the Irish countryside. A million people would die of starvation. Another million deserted their homeland and immigrated to America.
Many settled in Five Points, a section of Lower Manhattan infamous for its squalor, gang violence and disease. Poor, unemployed, and desperate, thousands of widowed and unwed mothers abandoned their young.
By 1865, an estimated 30,000 homeless and orphaned children roamed the streets of New York. Reduced to sleeping in alleyways, under bridges and in sewers, many survived by resorting to petty crime, prostitution, and selling newspapers for a penny a piece.
In response to this tragedy, the age of orphanage building began. It would culminate in one of the most improbable and audacious periods in American history. Called the Orphan Train Movement, it altered the course of history forever.