---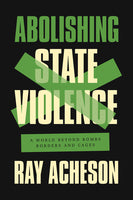 by Ray Acheson
Haymarket Books
7/26/2022, paperback
SKU: 9781642596939
Abolishing State Violence is an urgent and accessible analysis of the key structures of state violence in our world today, and a clarion call to action for their abolition.
Connecting movements for social justice with ideas for how activists can support and build on this analysis and strategy, this book shows that there are many mutually supportive abolition movements, each enhanced by a shared understanding of the relationship between structures of violence and a shared framework for challenging them on the basis of their roots in patriarchy, racism, militarism, settler colonialism, and capitalism.
This book argues that abolition is transformative. It is about defunding, demilitarizing, disbanding, and divesting from current structures of violence, but also about imagining new ways to organize and care for each other and our planet, and about building new systems and cultures to sustain ourselves in a more equitable, free, and peaceful way. It shows that change is possible.
Reviews:
"Abolishing State Violence is an excellent, inspiring, and extremely important book for anyone who cares about helping transform our world. Beyond any book I've read, Abolishing State Violence brilliantly shows the interconnected nature of police and prisons, war and borders, capitalism and climate change, as well as related forces including racism, colonialism, patriarchy, heteronormativity, and class domination. Ray Acheson provides a roadmap for a desperately needed cross-issue movement working simultaneously to abolish these intertwined forms of violence while replacing them with structures founded in justice, equality, and care. Everyone should read this book." —David Vine, author of The United States of War: A Global History of America's Endless Conflicts, from Columbus to the Islamic State
"In this book, Acheson provides a helpful primer on current abolitionist arguments and strategies and applies the framework in new directions and to a range of issues beyond its common usage." —Silky Shah,  Executive Director, Detention Watch Network
"Ray Acheson is a determined feminist realist. She shows us in Abolishing State Violence that we can abolish the instruments of state violence if we muster the collective stamina to, step-by-conscious-step, build genuinely trusting, vibrant communities. Reading each chapter here stretched me, energized me." —Cynthia Enloe, The Big Push: Exposing and Challenging Persistent Patriarchy
About the Author:
Ray Acheson is director of disarmament at the Women's International League for Peace and Freedom and a steering group member of the International Campaign to Abolish Nuclear Weapons, which was awarded the Nobel Peace Prize in 2017 for its work to highlight the humanitarian impacts of nuclear weapons and work with governments to develop the Treaty on the Prohibition of Nuclear Weapons. Acheson is the author of Banning the Bomb, Smashing the Patriarchy.