---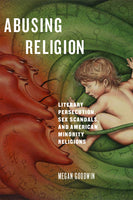 by Megan Goodwin
Rutgers University Press
07/17/2021, paperback
SKU: 9781978807785
Sex abuse happens in all communities, but American minority religions often face disproportionate allegations of sexual abuse. Why, in a country that consistently fails to acknowledge -- much less address -- the sexual abuse of women and children, do American religious outsiders so often face allegations of sexual misconduct? Why does the American public presume to know "what's really going on" in minority religious communities? Why are sex abuse allegations such an effective way to discredit people on America's religious margins? What makes Americans so willing, so eager to identify religion as the cause of sex abuse? Abusing Religion argues that sex abuse in minority religious communities is an American problem, not (merely) a religious one.

Reviews:
"Abusing Religion should, and must, initiate long overdue discussion within communities where abuse occurs, but continues outside the spotlight. -- Nova Religio
"Significant and eminently timely." -- Melissa M. Wilcox, author of Queer Nuns: Religion, Activism, and Serious Parody
"QAnon didn't just spring forth from the void -- it's the latest from a familiar movement" -- Adam Willems, Religion Dispatches
About the Author:
Megan Goodwin is the program director for Sacred Writes: Public Scholarship on Religion, a Henry R. Luce-funded project hosted by Northeastern University, and a visiting lecturer with Northeastern University's Philosophy and Religion Department.