---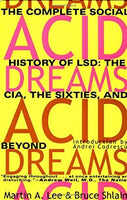 by Martin A. Lee and Bruce Shlain
Grove Press
1/21/1994, paperback
SKU: 9780802130624
Few events have had a more profound impact on the social and cultural upheavals of the Sixties than the psychedelic revolution spawned by the spread of LSD. This book for the first time tells the full and astounding story--part of it hidden till now in secret Government files--of the role the mind-altering drug played in our recent turbulent history and the continuing influence it has on our time.
And what a story it is, beginning with LSD's discovery in 1943 as the most potent drug known to science until it spilled into public view some twenty years later to set the stage for one of the great ideological wars of the decade. In the intervening years the CIA had launched a massive covert research program in the hope that LSD would serve as an espionage weapon, psychiatric pioneers came to believe that acid would shed light on the perplexing problems of mental illness, and a new generation of writers and artists had given birth to the LSD sub-culture.
Acid Dreams is a complete social history of the psychedelic counter-culture that burst into full view in the Sixties. With new information obtained through the Freedom of Information Act, the authors reveal how the CIA became obsessed with LSD during the Cold War, fearing the Soviets had designs on it as well. What follows is one of the more bizarre episodes in the covert history of U.S. intelligence as the search for a "truth drug" began to resemble a James Bond scenario in which agents spied on drug-addicted prostitutes through two-way mirrors and countless unwitting citizens received acid with sometimes tragic results.
The story took a new turn when Captain Al Hubbard, the first of a series of "Johnny Appleseeds" of acid, began to turn on thousands of scientists, businessmen, church figures, policemen, and others from different walks of life.
Timothy Leary, Ken Kesey and his band of Merry Pranksters, Allen Ginsberg and the Beat generation, the Diggers and the Age of Golden Anarchy in Haight-Ashbury, William Mellon Hitchcock, Abbie Hoffman and the Yippies, the Beatles--these are just some of a motley cast of characters who stride through the pages of this compelling chronicle. What impact did the widespread use of LSD have on the anti-war movement of the late Sixties? Acid Dreams traces the way the drug intensified each stage of counter-cultural transition to break the "mind-forged manacles" of a new generation in rebellion.
In Acid Dreams, Martin Lee and Bruce Shalin have written the history of a time still only dimly understood. The events they recount and the facts they uncover supply an important missing piece of the puzzle of a crucial decade in our recent past.
Reviews:
"Excellent... Captivating... A generalist's history that should replace all others."--San Francisco Chronicle
"Recounts some of the most bizarre incidents in the history of U.S. intelligence."--The Boston Globe
"A blistering exposé of CIA drug experimentation on Americans. It's all there."--John Stockwell