---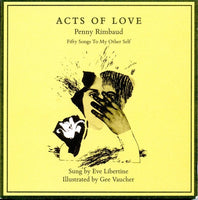 by Penny Rimbaud, Sung by Eve Libertine, Illustrated by Gee Vaucher
Exitstencilisms & Southern Records/PM Press
2008, paperback and CD
SKU: 9781629639604
"Everything that we write is a love song."— Crass: Yes Sir, I Will
Recorded towards the end of Crass' seven year social bombardment & previously released in 1985 on vinyl, Acts of Love was Penny Rimbaud's 'other voice'. 50 poems written from 1968 to 1973, set to music - classical, jazz & avant garde - composed by Rimbaud & performed by Eve Libertine.
This is a new edition of the first ex-Crass work from Penny Rimbaud, Eve Libertine and Gee Vaucher.  Now presented as it was originally conceived: a 124 page perfect-bound book of 50 poems by Rimbaud, each illustrated by Vaucher. With the accompanying audio CD of songs composed by Rimbaud and sung by Libertine, remastered in 2008 and now released for the first time on CD.
Included on the CD which accompanies the book are the original 50 tracks of the 1985 album release in remastered form, plus 21 additional tracks of studio extras and out-takes, and a poem by Eve Libertine.
About the Author:
Penny Rimbaud is a writer, poet, philosopher, painter, musician and activist. He was a former member of the performance art groups EXIT and Ceres Confusion, and in 1972 was cofounder with Phil Russell (aka Wally Hope) of the Stonehenge Free Festivals. In 1977, alongside Steve Ignorant, he cofounded the seminal anarchist punk band Crass, which disbanded in 1984. From that time up until 2000 he devoted himself almost entirely to writing, returning to the public platform in 2001 as a performance poet working alongside Australian saxophonist Louise Elliott and a wide variety of jazz musicians under the umbrella of Penny Rimbaud's Last Amendment.