---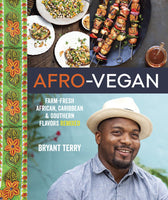 by Bryant Terry
Ten Speed Press
4/8/2014, hardcover
SKU: 9781607745310
Blending African, Carribean, and southern cuisines results in delicious recipes like Smashed Potatoes, Peas, and Corn with Chile-Garlic Oil, a recipe inspired by the Kenyan dish irio, and Cinnamon-Soaked Wheat Berry Salad with dried apricots, carrots, and almonds, which is based on a Moroccan tagine. Creamy Coconut-Cashew Soup with Okra, Corn, and Tomatoes pays homage to a popular Brazilian dish while incorporating classic Southern ingredients, and Crispy Teff and Grit Cakes with Eggplant, Tomatoes, and Peanuts combines the Ethiopian grain teff with stone-ground corn grits from the Deep South and North African zalook dip. There's perfect potluck fare, such as the simple, warming, and intensely flavored Collard Greens and Cabbage with Lots of Garlic, and the Caribbean-inspired Cocoa Spice Cake with Crystallized Ginger and Coconut-Chocolate Ganache, plus a refreshing Roselle-Rooibos Drink that will satisfy any sweet tooth.
With more than 100 modern and delicious dishes that draw on Terry's personal memories as well as the history of food that has traveled from the African continent, Afro-Vegan takes you on an international food journey. Accompanying the recipes are Terry's insights about building community around food, along with suggested music tracks from around the world and book recommendations. For anyone interested in improving their well-being, Afro-Vegan's groundbreaking recipes offer innovative, plant-based global cuisine that is fresh, healthy, and forges a new direction in vegan cooking.
Reviews:
"If A People's History Of The United States and Joy of Cooking had a baby, Afro-Vegan would be it!" --Isa Chandra Moskowitz, author of Veganomicon and Isa Does It
"Bryant Terry crafts recipes and weaves narrative to shine truth on Southern food. This is cooking that empowers and encourages, and tells the story of the nourishment of a community. Afro-Vegan shows us how to be proud of our storied, vegetable-rich foodways."  --Hugh Acheson, chef and author of A New Turn in the South
About the Author:
Bryant Terry is the author of The Inspired Vegan and the critically acclaimed Vegan Soul Kitchen. Along with Anna Lappé, Bryant co-authored Grub, which the New York Times called "ingenious." He is also the host of Urban Organic, a multi-episode web series that he co-created. Bryant's work has been featured in the New York Times, Gourmet, Food & Wine, O: The Oprah Magazine, Essence, Yoga Journal, and Vegetarian Times, among others. He has made dozens of national television and radio appearances including the Martha Stewart Show, Emeril Green, The Splendid Table, and Morning Edition. He lives in Oakland, California.