---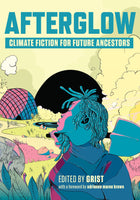 Edited by Grist
New Press
2/7/2023, paperback
SKU: 9781620977583
Hopeful and forward-looking futuristic short stories that explore how the power of storytelling can help create the world we need
Afterglow is a stunning collection of original short stories in which writers from many different backgrounds envision a radically different climate future. Published in collaboration with Grist, a nonprofit media organization dedicated to telling stories of climate solutions, these stirring tales expand our ability to imagine a better world.
Afterglow draws inspiration from a range of cutting-edge literary movements including Afrofuturism, hopepunk, and solarpunk--genres that uplift equitable climate solutions and continued service to one's community, even in the face of despair. The Indigenous, Latinx, Asian, disabled, feminist, and queer voices in this collection imagine intersectional worlds in which no community is left behind. Whether through abundance or adaptation, reform, or a new understanding of survival, these stories offer flickers of hope, even joy, as they provide a springboard for exploring how fiction can help create a better reality.
Afterglow welcomes a diverse range of new voices into the climate conversation to envision the next 180 years of equitable climate progress. A creative work rooted in the realities of our present crisis, Afterglow presents a new way to think about the climate emergency--one that blazes a path to a clean, green, and more just future.

Reviews:
"[Afterglow] approaches climate change with hope for the radically different futures humans might create." -- The New York Times Book Review
"The art of storytelling is not only an act of memory and imagination, but one of hope and faith. These vivid and provocative stories represent a dreaming, a collective vision of future worlds where humanity has gathered itself, shared resources and wisdom, to arrive at a place of intentional action, health, and thriving. It is no small feat on the page or beyond to engage in such brave work. The tales of Afterglow offer the glimmers of possibility, the hard choices to be made, and the radiance of worlds not yet known but deeply needed." -- Sheree Renée Thomas, author of Black Panther: Panther's Rage and Nine Bar Blues
"Ultimately, I hope these stories reveal how our imaginations can help build a better reality--not only to serve as a guiding light, but to serve as a balm for these current, difficult times." -- Morgan Jerkins, bestselling author of This Will Be My Undoing
About the Editor:
Grist is a nonprofit, independent media organization dedicated to telling stories of climate solutions and a just future. Its goal is to use the power of storytelling to illuminate the way toward a better world, inspire millions of people to walk that path with us, and show that the time for action is now.