---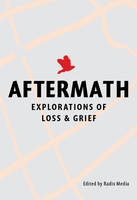 Edited by Radix Media
Radix Media
5/1/2018, paperbck
SKU: 9780999713709
Aftermath: Explorations of Loss & Grief is an anthology that weaves together a broad collection of voices to illustrate the many forms of loss. The topics range from the inevitable breakdown of a relationship to an immigrant family struggling to retain their culture as they attempt to assimilate. In their interpretation of the book's theme, the selected stories run the spectrum from heartfelt, raw, and powerful to lighter and humorous. 
This body of work reveals how, despite the differences of our day-to-day lives, we are all connected.
Aftermath brings together the incredible stories of thirty-three contributors in the United States and abroad, working in fiction, nonfiction, poetry, comics, photography, and illustration.