---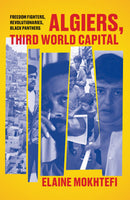 by Elaine Mokhtefi
Verso Books
03/24/2022, paperback
SKU: 9781788730037
A fascinating portrait of life with the Black Panthers in Algiers: a story of liberation and radical politics

Following the Algerian war for independence and the defeat of France in 1962, Algiers became the liberation capital of the Third World. Elaine Mokhtefi, a young American woman immersed in the struggle and working with leaders of the Algerian Revolution, found a home here. A journalist and translator, she lived among guerrillas, revolutionaries, exiles, and visionaries, witnessing historical political formations and present at the filming of The Battle of Algiers.
Mokhtefi crossed paths with some of the era's brightest stars: Frantz Fanon, Stokely Carmichael, Timothy Leary, Ahmed Ben Bella, Jomo Kenyatta, and Eldridge Cleaver. She was instrumental in the establishment of the International Section of the Black Panther Party in Algiers and close at hand as the group became involved in intrigue, murder, and international hijackings. She traveled with the Panthers and organized Cleaver's clandestine departure for France. Algiers, Third World Capital is an unforgettable story of an era of passion and promise.
Reviews:
"Mokhtefi artfully weaves together these various strands of radical struggle, while enriching our understanding of the Third World with personal anecdotes... this story reminds us that the Third World was not merely a destination. It was also a fabric of people woven together, even if the patchwork was sometimes unexpected, and at other times, imperfectly sewn." -- Muriam Haleh Davis, Public Books
"A fascinating insider's account of the Black Panthers' exile in Algiers in the late 1960s and early 1970s. Legendary figures take to the stage in the world capital of the national liberation movements: Ahmed Ben Bella, Frantz Fanon, Eldridge Cleaver. Mokhtefi was a key intermediary between the Panthers and the FLN during her own time in Algiers, and a militant anti-imperialist. This is a clear-eyed, first-hand recollection of the way things fall apart." -- Jeremy Harding, author of Border Vigils
About the Author:
Elaine Mokhtefi was born in New York. After the Second World War, she joined the youth movement for world peace and justice, becoming director of a militant student organization. In 1951 she settled in France as a translator and interpreter for international organizations in the new postwar world. In 1960, she joined a small team in New York as part of the Algerian National Liberation Front, lobbying the United Nations in support of the government in exile and working for Algerian independence. When the struggle was won, she made Algeria her home, working as a journalist and translator. She married the Algerian writer and liberation war veteran Mokhtar Mokhtefi, who died in 2015. A painter as well as a writer, she lives in New York.