---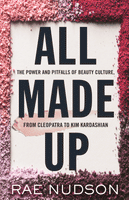 by Rae Nudson
Beacon Press
7/12/2022, paperback

SKU: 9780807055625
A fascinating journey through history and culture, examining how makeup affects self-empowerment, how people have used it to define (and defy) their roles in society, and why we all need to care
There is a history and a cultural significance that comes with wearing cat-eye-inspired liner or a bold red lip, one that many women feel to this day, even if we don't realize exactly why. Increasingly, people of all genders are wrestling with what it means to be a woman living in a patriarchy, and part of that is how looking like a woman--whatever that means--affects people's real lives.
Through the stories of famous women like Cleopatra, Empress Wu, Madam C. J. Walker, Elizabeth Taylor, and Marsha P. Johnson, Rae Nudson unpacks makeup's cultural impact--including how it can be used to shape a personal or cultural narrative, how often beauty standards align with whiteness, how and when it can be used for safety, and its function in the workplace, to name a few examples.
Every woman has had to make a very personal choice about her relationship with makeup, and consciously or unconsciously, every woman knows that the choice is never entirely hers to make. This book also holds space for complicating factors, especially the ways that beauty standards differ across race, class, and culture. Engaging and informative, All Made Up will expand the discussion around what it means to participate in creating your own self-image.
Reviews:
"Makeup has always been political. Rae Nudson understands that makeup isn't just frivolous--it's a site of negotiating power and privilege, and it can be a powerful tool for liberation. Rae's deep research and sharp analysis show how cosmetics have long been used both to police the lines of race, class, and gender, and to subvert them. All Made Up challenged my own thinking about makeup, and it straight up blew my mind." -- Aubrey Gordon, author of What We Don't Talk About When We Talk About Fat
"Full of intriguing anecdotes and trenchant commentary on the relationship between conventional beauty standards and misogyny, classism, and racism, this is an invigorating examination of the 'rules and assumptions that govern appearance.'" -- Publishers Weekly
"Journalist Nudson offers a strong argument that makeup affects everyone, whether they wear it or not." -- Booklist
About the Author:
Rae Nudson is a writer specializing in nonfiction essays and reported features on beauty, fashion, and pop culture. Her work has appeared in Esquire, The Cut, Hazlitt, Topic, Medium, Paste Magazine, The Week, The Billfold, and Real Life, among others. She has bachelor's degrees in journalism and history, with a specialization in American history, from the University of Missouri. She lives in Chicago.