---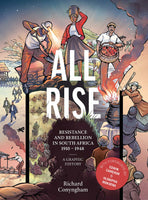 Sale
by Richard Conyngham
Catalyst Press
5/17/2022, paperback
SKU: 9781946395634
A graphic anthology celebrating pivotal human rights court cases--the stories of which have never been told before--in South Africa's pre-apartheid years, and the unsung heroes who sacrificed everything to ensure a better future for all.
All Rise: Resistance and Rebellion in South Africa revives six true stories of resistance by marginalized South Africans against the country's colonial government in the years leading up to Apartheid. In six parts--each of which is illustrated by a different South African artist-- All Rise shares the long-forgotten struggles of ordinary, working-class women and men who defended the disempowered during a tumultuous period in South African history. From immigrants and miners to tram workers and washerwomen, the everyday people in these stories bore the brunt of oppression and in some cases risked their lives to bring about positive change for future generations.
This graphic anthology breathes new life into a history dominated by icons, and promises to inspire all readers to become everyday activists and allies. The diverse creative team behind All Rise, from an array of races, genders, and backgrounds, is a testament to the multicultural South Africa dreamed of by the heroes in these stories--true stories of grit, compassion, and hope, now being told for the first time in print.
Reviews:
"All Rise is a giant step for South African comics: an inspired mix of archival sleuthing and graphic vision. Conyngham and his all-star team of artists have dug up a hoard of resistance history, and brought it to glittering life." - Carlos Amato, Mail & Guardian
"These are smaller, lesser-known stories of South Africa's past, but no less powerful and important. The tales told within the pages of All Rise are anchored in history, and elevated by subtle and nuanced characters, written with recognition and respect for their roles in these important events. The diversity of art flavours each tale with its own distinct atmosphere, complimenting and enhancing Conyngham's writing and making every story uniquely accessible." - Luke Molver, author/illustrator, Shaka Rising and King Shaka: Zulu Legend
About the Contributors:
Richard Conyngham is the author, creative director and researcher behind All Rise. He is a Pietermaritzburg-born writer who lives in Mexico City. After graduating from the universities of Cape Town and Cambridge, he worked for South African civil-society organizations Equal Education, The Bookery, and Ndifuna Ukwazi, the London publisher Slightly Foxed, and the edtech organization MakeTomorrow. In 2016, Richard collaborated with the Trantraal Brothers to create Safety, Justice and People's Power, an illustrated companion to the O'Regan-Pikoli Commission of Inquiry into policing in Khayelitsha.
Saaid Rahbeeni lives in Maitland, Cape Town. A freelance illustrator with decades of experience, he previously worked for the Educational Support Services Trust, Jincom, Strika Entertainment, and MTE Studios. His drawings appear in a range of school textbooks published by Pearson, Pan Macmillan, and Oxford University Press, among others, and he has also contributed to the Our Story series by South African Heritage Publishers. Saaid illustrated Chapter 1, 'Until the Ship Sails'.
The Trantraal Brothers, André and Nathan, are a sibling-illustrator duo who grew up in the Cape Town township of Mitchells Plain before moving to Bishop Lavis. They have published numerous cartoons and graphic works including Coloureds (2010) and Crossroads (2014-2020, written by Koni Benson). Independently, André has written and illustrated the children's book series, Keegan and Samier. Nathan has published three poetry collections in Kaaps--earning him numerous awards including the 2013 Ingrid Jonker Prize and the 2020 SALA Poetry Award--as well as a collection of his columns as published in the Afrikaans newspaper, Rapport. The Trantraal Brothers illustrated Chapter 2, 'In the Shadow of a High Stone Wall'.
Liz Clarke lives in Cape Town, where she works as an illustrator. She has contributed to the genre of graphic history internationally, and her work is featured in seven books published by Oxford University Press USA--including Witness to the Age of Revolution (written by Charles F. Walker), which won the Association of American Publishers PROSE Award for Nonfiction Graphic Novels, and Abina and the Important Men (written by Trevor R. Getz), which won the American Historical Association's James Harvey Robinson Prize. Liz illustrated Chapter 3, 'Come Gallows Grim'.
Dada Khanyisa is an Umzimkhulu-born, Johannesburg-raised, Cape Town-based multi-disciplinary artist whose work explores the intersection of technology and contemporary social culture with respect to the Black experience. In 2016, they (Dada's preferred pronoun) were awarded the Simon Gerson Prize, and a year later, completed a commission for a 35-metre mural on Constitution Hill in Johannesburg. In 2018, the Stevenson Gallery in Cape Town presented Dada's first solo exhibition, Bamb'iphone, followed up two years later by the Johannesburg show, Good Feelings. Dada illustrated Chapter 4, 'The Widow of Marabastad'.
Tumi Mamabolo hails from Polokwane in Limpopo province. He can't remember a time when he wasn't avidly drawing and painting, usually a comic or graphic novel from his own imagination. Since graduating with a degree in Information Design from the University of Pretoria in 2020, he has already won two Gold Loerie awards for his animation work. Still in his early twenties, Tumi is the youngest of the All Rise contributors, having illustrated Chapter 5, 'A House Divided'.
Mark Modimola was born in Pretoria of Sotho-Tsonga parentage. Originally a graphic designer, he studied at the University of Pretoria and later pursued a Fulbright Scholarship in the United States before returning to South Africa determined to illustrate full-time. Mark is a prolific and versatile creator, with a portfolio that explores African identity and spirituality, often through the cultural aesthetic of Afrofuturism. He illustrated Chapter 6, 'Here I Cross to the Other Side', honouring and drawing inspiration from his Sotho migrant ancestry.