---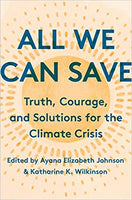 Edited by Ayana Elizabeth Johnson and Katherine K. Wilkinson
One World
7/20/2021, paperback

SKU: 9780593237083
Provocative and illuminating essays from women at the forefront of the climate movement who are harnessing truth, courage, and solutions to lead humanity forward.
There is a renaissance blooming in the climate movement: leadership that is more characteristically feminine and more faithfully feminist, rooted in compassion, connection, creativity, and collaboration. While it's clear that women and girls are vital voices and agents of change for this planet, they are too often missing from the proverbial table. More than a problem of bias, it's a dynamic that sets us up for failure. To change everything, we need everyone.
All We Can Save illuminates the expertise and insights of dozens of diverse women leading on climate in the United States--scientists, journalists, farmers, lawyers, teachers, activists, innovators, wonks, and designers, across generations, geographies, and race--and aims to advance a more representative, nuanced, and solution-oriented public conversation on the climate crisis. These women offer a spectrum of ideas and insights for how we can rapidly, radically reshape society.
Intermixing essays with poetry and art, this book is both a balm and a guide for knowing and holding what has been done to the world, while bolstering our resolve never to give up on one another or our collective future. We must summon truth, courage, and solutions to turn away from the brink and toward life-giving possibility. Curated by two climate leaders, the book is a collection and celebration of visionaries who are leading us on a path toward all we can save.
Reviews:
"A fiery, hopeful manifesto on how to make sense of the staggering loss posed by climate change--and take justice-oriented action in spite of it." --Mashable
"Hopeful and illuminating, All We Can Save is an anthology of essays by women at the forefront of the climate crisis. So often climate writing can make us feel doomed and anxious, but this collection is a comfort because of its honesty and courage . . . a reminder that we can work with hope towards a better future." --BuzzFeed
About the Contributors:
Dr. Ayana Elizabeth Johnson is a marine biologist, policy expert, writer, and Brooklyn native. She is founder and CEO of Ocean Collective, a consulting firm for conservation solutions grounded in social justice, and founder of Urban Ocean Lab, a think tank for the future of coastal cities.
Dr. Katharine K. Wilkinson is an author, strategist, teacher, and homegrown Atlantan, named one of fifteen "Women Who Will Save the World" by Time. Her writing has been featured in The Drawdown Review and the New York Times bestseller Drawdown, and she is the author of Between God & Green.