---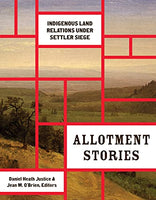 edited by Daniel Heath Justice and Jean M. O'Brien
University of Minnesota Press
03/29/2022, paperback
SKU: 9781517908768
More than two dozen stories of Indigenous resistance to the privatization and allotment of Indigenous lands
Land privatization has been a longstanding and ongoing settler colonial process separating Indigenous peoples from their traditional homelands, with devastating consequences. Allotment Stories delves into this conflict, creating a complex conversation out of narratives of Indigenous communities resisting allotment and other dispossessive land schemes.
From the use of homesteading by nineteenth-century Anishinaabe women to maintain their independence to the role that roads have played in expropriating Guam's Indigenous heritage to the links between land loss and genocide in California, Allotment Stories collects more than two dozen chronicles of white imperialism and Indigenous resistance. Ranging from the historical to the contemporary and grappling with Indigenous land struggles around the globe, these narratives showcase both scholarly and creative forms of expression, constructing a multifaceted book of diverse disciplinary perspectives. Allotment Stories highlights how Indigenous peoples have consistently used creativity to sustain collective ties, kinship relations, and cultural commitments in the face of privatization. At once informing readers while provoking them toward further research into Indigenous resilience, this collection pieces back together some of what the forces of allotment have tried to tear apart.
Contributors: Jennifer Adese, Megan Baker, William Bauer Jr., Christine Taitano DeLisle, Vicente M. Diaz, Sarah Biscarra Dilley,  Marilyn Dumont, Munir Fakher Eldin, Nick Estes, Pauliina Feodoroff, Susan E. Gray, J. Kēhaulani Kauanui, Rauna Kuokkanen, Sheryl R. Lightfoot, Kelly McDonough, Ruby Hansen Murray; Tero Mustonen, Darren O'Toole, U of Ottawa; Shiri Pasternak, Dione Payne, Joseph M. Pierce, Khal Schneider, Leanne Betasamosake Simpson, Jameson R. Sweet, Michael P. Taylor, Candessa Tehee, Benjamin Hugh Velaise.
About the editors:
Daniel Heath Justice (Cherokee Nation), raised in traditional Ute territory in Colorado and now living in shíshálh territory in British Columbia, is professor of Critical Indigenous Studies and English at the University of British Columbia, xwməθkwəy̓əm territory. He is author of Why Indigenous Literatures Matter and Our Fire Survives the Storm and an editor of Soverign Erotics.
Jean M. O'Brien (White Earth Ojibwe) is Distinguished McKnight and Northrop Professor in the Department of History at the University of Minnesota within Dakota homelands. Her books include Dispossession by Degrees and Firsting and Lasting.