---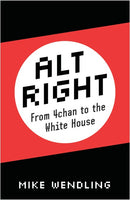 by Mike Wendling
Pluto Press
4/20/2018, paperback
SKU: 9780745337456
Media accounts to the contrary, the Alt-Right didn't just burst out of nowhere in 2016. They have been building their network quietly for years, using bulletin boards and social media to spread a toxic hybrid of technological utopianism, reactionary philosophy, and racial hatred. Wendling traces the rise of the movement and the evolution of its ideas, and he introduces us to some of its key figures. Exploring links between Alt-Right rhetoric and hate crimes and terrorism, he shows that the evidence connecting them is undeniable.
Reviews:

"[A] concise survey of the 21st-century far right . . . . The most illuminating insights in the book are Wendling's brief but revealing interviews with various ordinary people who identify as alt-righters. Taken collectively they constitute a somber and pathetic portrait of stunted and self-pitying manhood finding consolation in chauvinism." -- Los Angeles Review of Books
"Anyone hoping to get a deeper look at the 'alt-right' will find this accessible, enjoyable, and informative." -- Observer
About the Author:
Mike Wendling is a senior broadcast journalist at the BBC. He produced the BBC radio series America's Own Extremists and has also presented documentaries for Radio 4 and the BBC World Service on Native Americans and the Black Lives Matter movement.