---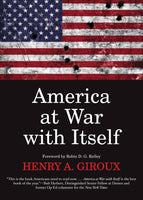 by Henry A. Giroux
City Lights
2016, paperback
SKU: 9780872867321
A searing critique of state violence and intolerance in the United States today, Henry Giroux examines how hot-button issues and events reveal the nation's drift toward totalitarian forms of social control. From police violence in black communities to the meteoric rise of Donald Trump, Giroux parses the trends and flashpoints to understand the underlying politics and social forces impacting America today.
With a forward by Robin D.G. Kelley.

About the Author:
Henry A. Giroux is a world renowned educator, author and public intellectual. He currently holds the McMaster University Professor for Scholarship in the Public Interest and is a Distinguished Visiting Professor at Ryerson University. He is also The Paulo Freire Distinguished Scholar in Critical Pedagogy. A prolific writer and political commentator, he writes regularly for Truthout and serves on their board of directors. He currently lives in Hamilton, Ontario, Canada with his wife, Dr. Susan Searls Giroux.