---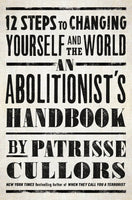 by Patrisse Cullors
St. Martin's Press
1/25/2022, hardcover
SKU: 9781250272973
In An Abolitionist's Handbook, Cullors charts a framework for how everyday activists can effectively fight for an abolitionist present and future. Filled with relatable pedagogy on the history of abolition, a reimagining of what reparations look like for Black lives and real-life anecdotes from Cullors, An Abolitionist's Handbook offers a bold, innovative, and humanistic approach to how to be a modern-day abolitionist. Cullors asks us to lead with love, fierce compassion, and precision.
In An Abolitionist's Handbook readers will learn how to:
- have courageous conversations
- move away from reaction and towards response
- take care of oneself while fighting for others
- turn inter-community conflict into a transformative action
- expand one's imagination, think creatively, and find the courage to experiment
- make justice joyful
- practice active forgiveness
- make space for difficult feelings and honor mental health
- practice non-harm and cultivate compassion
- organize local and national governments to work towards abolition
- move away from cancel culture
An Abolitionist's Handbook is for those who are looking to reimagine a world where communities are treated with dignity, care and respect. It gives us permission to move away from cancel culture and into visioning change and healing.
Reviews:
"Her guidance on how to achieve personal and social transformation is enlightening. Readers will be inspired to take action." - Publishers Weekly

"Recommended for all readers interested in social change activism, particularly prison reform and the defund-the-police movement." - Library Journal
About the Author:
Patrisse Cullors is a New York Times bestselling author, educator, artist and abolitionist from Los Angeles, CA. Co-founder and former Executive Director of the Black Lives Matter Global Network Foundation, Patrisse has been on the frontlines of abolitionist organizing for 20 years. Since she began the Black Lives Matter movement in 2013, it has expanded into a global foundation supporting Black-led movements in the US, UK and Canada and has been nominated for the 2021 Nobel Peace Prize. TIME 100 also named Patrisse as one of the 100 most influential people in 2020. As an outspoken abolitionist and artist, Patrisse teamed up with Noé Olivas and Alexandre Dorriz to serve as a co-founder of the Crenshaw Dairy Mart, a reimagined art gallery and studio dedicated to shifting the trauma-induced conditions of poverty and economic injustice through the lens of Inglewood and its community. Patrisse is also the faculty director of Arizona's Prescott College, a new Social and Environmental Arts Practice MFA program, which she developed nesting a curriculum focused on the intersection of art, social justice and community organizing that is first of its kind. In 2020, Patrisse signed an overall production deal with Warner Brothers, where she intends to continue to uplift Black stories, talent and creators that are transforming the world of art and culture.