---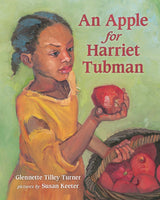 by Glennette Tilley Turner, Illustrated by Susan Keeter
Albert Whitman & Company
11/1/2016, paperback
SKU: 9780807503966
Like other enslaved African American children, young Harriet Tubman had to work hard. In her master's orchard, she spent long hours picking the juicy apples she was forbidden to eat. Harriet vowed to one day be free and to grow apple trees of her own. When she was grown, she made her escape to the North. Then, repeatedly risking her life, she returned to lead many other African Americans to freedom.
Reviews:
"Her bravery is inspiring, but equally moving is the significance of an adult Harriet Tubman inviting people to share in the apples that she had grown. This emotional story is exceptionally well written and the colorful illustrations are wonderful."--Children's Literature
"This book is an excellent introduction to a complex topic, providing children with a way to make a personal connection with a girl whose life was very different from their own. It gives parents and teachers a starting point for discussions about slavery, race, freedom, and heroism."--School Library Journal
About the Author:
Susan Keeter is a fine artist and illustrator with degrees in these subjects from Syracuse University. She illustrated The Piano by William Miller, which received the Best Picture Book Award from the Society of School Librarians International. Susan lives in New York with her family.