---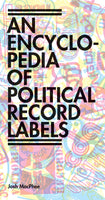 by Josh MacPhee
Justseeds Artists' Cooperative
10/15/2019, paperback
SKU: 9781942173113
Just as the Civil Rights Movement leaps onto mainstream headlines in the early 1960s, the 33rpm "Long Player" and 45rpm single invade people's stereos. All the major Civil Rights organizations release vinyl records of speeches, movement songs, and field recordings--setting the pace for the intertwining of social movements and easily distributed sound recordings. This relationship continues through the end of the twentieth century, which marked both the end of apartheid in South Africa and the dominance of the vinyl format.
An Encyclopedia of Political Record Labels is a compendium of information about political music. Focusing on vinyl records, and the labels that released them, this reference book traces the parallel rise of social movements in the second half of the twentieth century and the vinyl record as the dominant form of music distribution.
From A-Disc (the record label of the Swedish Labor Movement) to Zhongguo Changpian (the state label of the People's Republic of China), An Encyclopedia of Political Record Labels is a compendium of over five hundred record labels which produced political music. Each entry features the logo of the label, a brief synopsis of its history, and additional interesting information. Truly international in scope, over two dozen countries and territories are represented, as well as a myriad of musical styles and forms. 
Reviews:
"Josh MacPhee has done a great service for all of us interested in the intersection of independent records and radical politics. Encompassing as it does such a wide variety of political voices in the international underground of record making, the encyclopedia paradoxically almost shrinks the world by fostering a vision of a community working without borders in varied strains of solidarity even if not always in full view or knowledge of each other. Every entry opens a window onto a different story of creativity and resistance, and I couldn't stop hopscotching around from page to page, each one sparking off vectors for further thought and exploration. A totally mind-blowing accomplishment." --Guy Picciotto, Fugazi
Author:
Josh MacPhee is a designer, artist, and archivist based in Brooklyn, NY. He is a founding member of both the Justseeds Artists' Cooperative and Interference Archive, a public collection of cultural materials produced by social movements. MacPhee is the author and editor of numerous publications, including Signs of Change: Social Movement Cultures 1960s to Now and Signal: A Journal of International Political Graphics and Culture. He has organized the Celebrate People's History poster series since 1998 and has been designing book covers for many publishers for the past decade.