---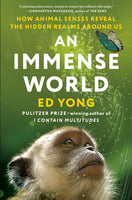 by Ed Young
Random House
6/21/2022, hardcover
SKU: 9780593133231
A "thrilling" (The New York Times), "dazzling" (The Wall Street Journal) tour of the radically different ways that animals perceive the world that will fill you with wonder and forever alter your perspective, by Pulitzer Prize-winning science journalist Ed Yong
The Earth teems with sights and textures, sounds and vibrations, smells and tastes, electric and magnetic fields. But every kind of animal, including humans, is enclosed within its own unique sensory bubble, perceiving but a tiny sliver of our immense world.
In An Immense World, Ed Yong coaxes us beyond the confines of our own senses, allowing us to perceive the skeins of scent, waves of electromagnetism, and pulses of pressure that surround us. We encounter beetles that are drawn to fires, turtles that can track the Earth's magnetic fields, fish that fill rivers with electrical messages, and even humans who wield sonar like bats. We discover that a crocodile's scaly face is as sensitive as a lover's fingertips, that the eyes of a giant squid evolved to see sparkling whales, that plants thrum with the inaudible songs of courting bugs, and that even simple scallops have complex vision. We learn what bees see in flowers, what songbirds hear in their tunes, and what dogs smell on the street. We listen to stories of pivotal discoveries in the field, while looking ahead at the many mysteries that remain unsolved.
Funny, rigorous, and suffused with the joy of discovery, An Immense World takes us on what Marcel Proust called "the only true voyage... not to visit strange lands, but to possess other eyes."
Reviews:
"What would we do without Ed Yong? This book feels like a tremendous burst of oxygen, animating everything around us with life and color and texture and wonder at precisely the moment we all need it." -- Rebecca Skloot, author of The Immortal Life of Henrietta Lacks
"Equal parts science and poetry: Yong guides us through the magic of the animal kingdom in ways that have unlocked something inside of me I didn't know was there. I'll never look at our planet the same way again." -- Clint Smith, author of How the Word Is Passed
"Yong's writerly gifts offer us a thoughtful blend of whip-smart enchantments-dazzling revelation after revelation about animals and how they encounter the world. The breadth and depth of his knowledge is downright effervescent and exacting." -- Aimee Nezhukumatathil, author of World of Wonders

"Yong writes in a perfect balance of scientific rigor and personal awe as he invites readers to grasp something of how other animals experience the world." -- NPR
About the Author:
Ed Yong is a Pulitzer Prize-winning science writer on the staff of The Atlantic, where he also won the George Polk Award for science reporting, among other honors. His first book, I Contain Multitudes, was a New York Times bestseller and won numerous awards. His work has appeared in The New Yorker, National Geographic, Wired, The New York Times, Scientific American, and more. He lives in Washington, D.C., with his wife, Liz Neeley, and their corgi, Typo.