---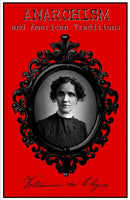 by Voltairine de Cleyre
Poisoned Candy Press
2021, staple-bound
SKU: n/a
This is a reprint of "Anarchism and the American Tradition", the original was first printed in 1909.
Voltairine de Cleyre (November 17, 1866 - June 20, 1912) was an American anarchist known for being a prolific writer and speaker who opposed state power, the capitalism she saw as interconnected with it, and marriage, and the domination of religion over sexuality and women's lives. In 1908, she argued "that the best thing ordinary workingmen or women could do was to organise their industry to get rid of money altogether" and "produce together, co-operatively rather than as employer and employed."
Be sure to check out our entire collection form Poisoned Candy Press!