---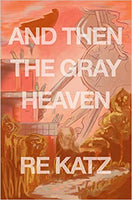 by RE Katz
Dzanc Books
6/15/2021, paperback
SKU:  9781950539277
RE Katz's And Then the Gray Heaven centers on Jules, whose partner B has recently died in a freak accident. Confronting the red tape of the hospital, the dissociation and cruelty of B's family, and the unimaginable void now at the center of their lives, Jules and new friend Theo embark on a road trip to bury two-thirds of B's ashes in the places they most belong. Along the way, Katz delves into their relationship and their life stories--Jules' rise from abandoned baby origins through the Florida foster care system, and B's artistic transformation, surrounded by kindred spirits who helped them realize it was possible to be regarded as a human and not as a body.
Delving into what it means to try to be alive to your own pain and the pain of others under late capitalism, And Then the Gray Heaven explores the themes of queer grief and affection, queer failure, burial as hero's journey, and the grotesqueries of artistic determination within and beyond the institutions that define our lives.
About the Author:
RE Katz is a nonbinary author whose debut work, And Then the Gray Heaven, won the 2019 Dzanc Books Novella Prize. They exhibited Boywitch Codex: Hypertexts as February 2017 Artist in Residence at Dreamland Arts in Buffalo, NY. They work in educational justice and are interested in personal fashion, antifascist witchcraft, and television.