---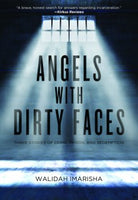 by Walidah Imarisha
AK Press
2016, paperback
SKU: 9781849351744
"There was a time I believed prisons existed to rehabilitate people, to make our communities safer. . . . When I saw for the first time (but not the last) a mother sobbing and clutching her son when visiting hours were up, only to be physically pried off and escorted out by guards, I knew nothing about that made me safer. This is the heart of this country's prison system. And the prison system has become the heart of America." Walidah Imarisha, from the Introduction.
Angels with Dirty Faces is no romanticized tale of crime and punishment. The three lives in this creative nonfiction account are united by the presence of actual harm - sometimes horrific violence. Imarisha, dealing with the complexities of her own experience with sexual assault and accountability, brings us behind prison walls to visit her adopted brother Kakamia and his fellow inmate Jimmy Mac McElroy, a member of the brutal Irish gang the Westies. Together they explore the questions: People can do unimaginable damage to one another and then what? What do we as a society do? What might redemption look like?
Imarisha doesn't flinch as she guides us through the difficulties and contradictions, eschewing theory for a much messier reality. The result is a nuanced and deeply personal analysis that allows readers to connect emotionally with the lives of people caught up within, and often destroyed by, our criminal justice system.
Reviews:
"A highly personalized and intimate portrait by a courageous writer who goes beyond cliches and platitudes. This book is a bracing, clear-eyed exploration of one of the most important issues of our time: the growing incarceration rate in the US, and the consequences of this for citizens both inside and outside prison walls." - T.J. English, "New York Times" best-selling author of Where the Bodies Were Buried and The Westies
"Walidah Imarisha gives us an unvarnished take on prison abolition. Beyond slogans or strategy, we are left with people, in all our imperfections and possibilities. This is a bold, beautiful, and absolutely necessary book, told with urgency and passion." - Dan Berger, author of Captive Nation
"Walidah Imarisha has written a brave book. It demonstrates both the universality and distinctiveness of three lives enmeshed through the US prison system. Imarisha pushes us to give up easy distinctions between innocence and guilt, good and evil, and to experience punishment and imprisonment as the messy, complex systems they are. And she reminds us that while there are no winners in this game, it is one replete with compassion, care, and resistance enough to permeate walls and cages." - Rachel Herzing, co-founder of Critical Resistance
"Angels with Dirty Faces is a superbly written shocking, sensuous, sometimes sadistic and even scandalous binding of biographies struggling with the question: What does redemption actually mean? It is impossible for one to engage this work and not emerge on the other side profoundly affected." - Sundiata Acoli, Political Prisoner
"Walidah Imarisha relates the experiences of crime, punishment, and victimization, not as abstractions, but as lived human tragedies. She shows us how they diminish and distort but never define the lives of those who suffer them. Writing with sorrow, and anger, and courageous hope, she forces us to reconsider what we mean by "justice," and by what endeavors its cause might be advanced, if never finally achieved." - Kristian Williams, author Our Enemies in Blue
"I read Angels With Dirty Faces in one sitting, mesmerized by what Walidah Imarisha has accomplished. It is a daring dive into the real deal about why prisons don't work...written in such lyrical, fierce poetry it takes your breath away." - Leah Lakshmi Piepzna-Samarasinha, editor of The Revolution Starts at Home