---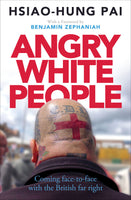 by Hsiao-Hung Pai
Zed Books
2016, paperback
SKU: 9781783606924
A rising scourge to England's social peace and multiculturalism, the English Defence League (EDL) has violently protested against Islam since its inception. In the fantastically daring Angry White People, Hsiao-Hung Pai follows a group of individuals who got caught up in the wave of far-right street movements that began in 2009. Pai investigated the rise of the EDL and other extremist organizations, falling in with several of their members and observing their day-to-day lives.
Delving deep into five lives in this marginalized section of England's white working class through research and interviews, Pai uncovers something surprising--their xenophobic ideologies are not an aberration in modern English society, but rather an ever-present facet that is continually reproduced, rejuvenated, and mainstreamed by the media and political powers.
About the Author:
Hsiao-Hung Pai is an investigative writer and contributor to the Guardian and many UK-Chinese publications. She is the author of Chinese Whispers: The True Story Behind Britain's Hidden Army of Labour, Scattered Sand: The Story of China's Rural Migrants, and, most recently, Invisible: Britain's Migrant Sex Workers.